Hands on in the petting farm



Reporter : Luca GIARDINO / Photographer : Renata DE BONIS 
Luca here, reporting on the petting Zoo in Rembrandt park in Amsterdam. Upon arrival the team was hard at work, with some people proudly showing off their dirty hands. Usually guests visit the petting zoo for a look at animals (goats, sheep, birds, rabbits pigs & many more), but this time round I realized just how much work is put into keeping this operation running.
---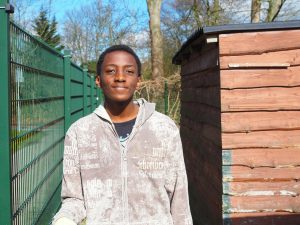 Meet Zion
He is 16 years old & recently moved to the Netherlands with his family. When asked why he was volunteering, he said "I am doing this for one of my school assignments. But my dream is to build a few animal reserves around the world. I like animals, which is why I was willing to participate in this project specifically". We touched on a few more topics, but when speaking about the youth, Zion went on to say, "Not many other high school students are participating in projects like these without school influencing them to do so". 
"I think they will find joy in helping someone other than themselves"
We walked through the petting zoo, hearing bits of excited conversation as different volunteers shared stories about their lives. We ventured into the open field where the goats and sheep were grazing. After awkwardly trying to catch the animals attention, we made friends with one friendly little guy. He didn't have much to say to the questions we asked, but he was very happy to get a head rub and a hug! If you are not too busy on a Saturday, we can highly suggest stopping in and meeting this guy. We'll call him Gary the Goat for now.  
---
Meet Francesca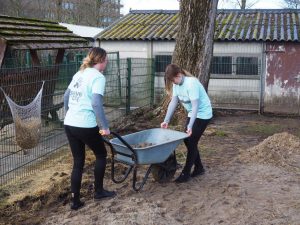 Before calling it a day we caught up with Francesca, 25 and from Italy. When asked why she decided to join this project she went on to say, "I really like animals, as easy as it is. I really wanted to spend time with animals while living in the city! I also felt I needed to do something manual, to ease the mind." Being the lovely day that it was, it made sense why the majority of the volunteers felt like doing something outdoors. This was Francesca's first experience with STC.
"Access to these projects are super easy and friendly ! One of the easiest ways to meet people is through volunteering"
---
Finding Joy in Volunteering
Each of the volunteers had a big smile on their faces. To spend the day in the sun, with new friends, surrounded by cute animals, who wouldn't have enjoyed themselves!? Respect to each and every team member that came in to help on the day. If you feel you need to give back to the community, even if it is for a day, jump onto the STC website and sign up for the next petting zoo volunteering experience. You will not be disappointed.