ABOUT THE VOLUNTEERING ACTIVITY
Time to let Nelson Mandela Park Amsterdam bloom in full colour!
Come join the 'Gift of colour' community gardening project initiated by "Bloei & Groei" (Bloom & Grow). No matter if you already have a green thumb or are still working on it: teamwork makes the dream work! Together with other volunteers you will spend a lovely morning outside while pruning, weeding, planting flowers and veggies while learning everything about gardening.
Snacks and drinks will be provided as well.
WHEN
Every Monday and Wednesday, 10:00 – 13:00, Amsterdam South East
(Nelson Mandela Park, de Bijlmer)
WHERE
Gift of Colour – Inside Nelson Mandela Park Amsterdam
Gooise Kant 95
1104 MH Amsterdam
ABOUT BLOEI & GROEI
Bloei & Groei (Bloom & Grow) is a community gardening initiative set up in 2014. Their goal: bringing Amsterdammers closer together through gardening. Accordingly, their green oases are spread all over Amsterdam and are full of fruits, veggies, wild flowers and medicinal herbs.
In 2017, Bloei & Groei even founded their own academy to share their green knowledge and skills with gardening coaches to be.
SIGN-UP
Below, please find our upcoming voluntary activities organized by Bloei & Groei. Just sign up for one of the events. Of course, you are also welcome to bring friends or family. Please note that they need to sign up as well.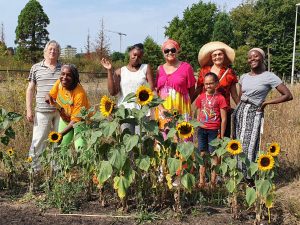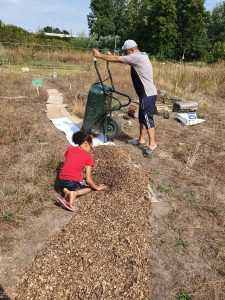 ALL UPCOMING VOLUNTEERING ACTIVITIES
AT BLOEI & GROEI
Want to get involved beyond our project days? Read more at our Join the Team page.
Questions about corporate volunteering? Learn more at our Companies page.