Pancakes for Life
Reported by: Kalina Barneva
Photographer: Fanni Szántó
It is an early Saturday morning, and I am both nervous and excited as I'm walking through the quiet city streets. The sun lays its light onto the sleepy buildings and reflects on the water in the canals like tiny crystals floating on the surface.
I reach my destination just as Mark slows down in front of it, his gaze searching for any signs whether he is at the right spot. Fanni joins us just a couple of moments later, gracing us with a beautiful and excited smile. And so, a short adventure has begun.
Led inside the building by Mohamed, we enter a sun lit room, bright as the smiles of the people occupying it. Sabine, the resident staff member that joins us this morning, is moving around swiftly like a bee, is making sure everyone is taken care of – she is the person locating pots and pans in the cupboards, holding secrets of how to put a smile on a
resident's faces, and quick key phrases for lightening up the mood. She moves quietly in and out of the room, yet her presence is always felt once she reappears.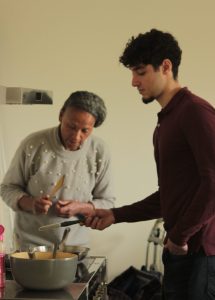 While the residents of the Philarood located in Amsterdam Noord are quietly and calmly chatting and enjoying their morning drinks, I get to officially meet the volunteers of the project.
Mohammed is the project coordinator today, leading us through the building, taking initiative with introductions and consulting the staff when questions occurred. He has 2 other projects under his belt and his desire to help others goes beyond his contribution in Serve the City because he has taken on the study of medicine. He was drawn to this project after working in a facility for people with dementia for his studies, where he often took care of a woman that had difficulties communicating. Her gratitude, expressed in own ways, took a hold of him and solidified the search of the good feeling of helping someone out – feeling happy and satisfied doing things that bring others joy.
        This is also not the first time Olivia has joined a project – she gained experience through a project for a  playground Cleanup. Her motivation for volunteering has been present for a long time, however being a high school student in her final year, her classes were often scheduled at the same time as projects she was interested in. Being a student during a pandemic is hard – the isolation at home, with only few opportunities to meet people while
having to complete internships which unfortunately fall through, takes a toll on one's mental health. So she seized the chance with this project to work on her desire to: Give back to the community and help others.
Jasmijn is also a high school student in her final year – as a matter of fact, in the same class as Olivia! This is her first volunteering project with Serve the City, which was recommended to her by Olivia. She has another personal relation to the project: her grandmother has Alzheimer's, so she understands the importance and weight small acts of kindness can hold. Her gaze is set on helping people professionally as well after school with hopes of pursuing
international justice, following her motto:
"Treat others the way you want to be treated. In the future I could be in the same position as them."
Mark is an accountant who followed his heart to Netherlands more than 2 years ago and has already joined 6 volunteering projects – so this was definitely not his first time making pancakes for others. Originally from the Philippines, he holds dear to his heart the idea of making an impact and helping his community.It comes as no surprise that his favorite memory from past volunteering opportunities is the smile on a person's face when receiving
help – be it a pancake or a helping hand. Finding volunteering opportunities for someone who is still working on his Dutch language skills can be hard, so he was happy to find opportunities through Serve the City.
And although hiding behind the camera was her expertise, Fanni offered her knowledge in making some delicious pancakes as well. Coming from Hungary last October, she has already joined Serve the City on another adventurous day filled with activities in Vondelpark. Her heart has always been set on participating in volunteering projects:
"Everyone should try to volunteer at least once".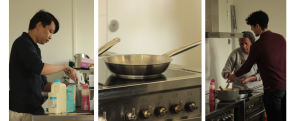 And her desire to give back to the community translates into her professional world as well as she works as a teacher in an international school. The beauty of volunteering for her lies in the possibility of choosing to do what you are good at and in hard times, this helps one to stay motivated.
With nothing but pancakes left to make, the team splits into two groups and jumps into action. The success is prepared, and when it comes, it is easily recognizable in the smiles and happiness that fill the rooms. A gathering of like-minded people on an early Saturday morning, ready to bring their own kindness into the world, determined to give what they can to someone that might need it.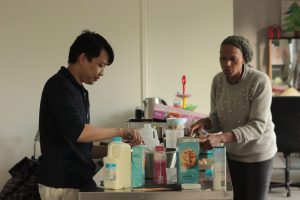 One could only feel refreshed with heart full of optimism for the future and the sweet scent of pancakes in mind.