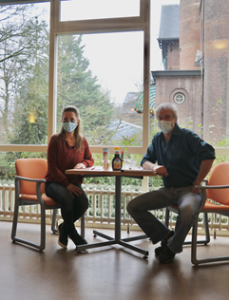 Linda, Coordinator with Serve the City
 "Recently, I quit my job and was searching for volunteer work, because I wanted to do something good, instead of simply staying at home and being unproductive. I came across Serve the City through their website and was immediately interested. When I called them up, I was actually requested to lead one of the projects. So for the past 3 months,  I've been mostly coordinating and participating in projects from home and I really enjoy working with the volunteers and Edwin here as well."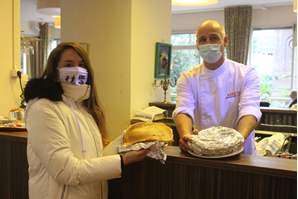 Camille, Volunteer
 "Ever since the coronavirus lockdown, I've been trying to find something to do with my time. This drove me to search for volunteer work in Amsterdam and I found the Serve the City website. I join a project whenever I can! I've volunteered about 4-5 times before and even though I mostly coordinate activities from home, I've really enjoyed myself here."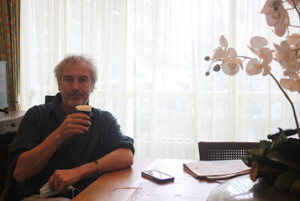 Edwin Abbenhues – Volunteer Coordinator Amsta
How did you get involved with STC?
"Serve the City contacted me for coordinating a project where we would prepare pancakes for the residents of an elderly home and other similar arrangements"
How long has this project been going on for?
"This project with Serve the City has been going on for about 2 years now. Sometimes, we coordinate it more often, and other times, it may be happening less frequently. Since it's the winter season right now, we do this project about every 2 weeks."
How do you feel when you see volunteers involved in this process?
"I see it as a sort of win-win-win situation. The volunteers from the neighbourhood are involved in the well-being of our people who live here. So for example, if I am happy, Serve the City is happy. And if Serve the City is happy, the residents of this home are happy. Which is why this project is almost a win-win-win situation for all.
The pancakes are not for me after all, but the people who live here really appreciate them. It's a welcome change for them. Normally, they have bread or soup on the menu, but pancakes are always a joy, with the different toppings. Also, the cooks here are also very happy about serving the pancakes! They get about half a day off, which is always nice."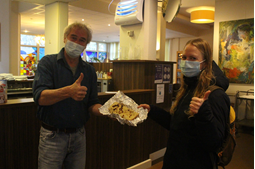 Josephine, Volunteer
"I'm studying to be a nurse right now so I don't have time to make a longer commitment, this was perfect for a day. I was looking for places to volunteer in Amsterdam and I love pancakes, so this was perfect. I got to eat some pancakes myself, haha."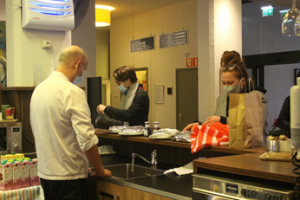 Lucy, Volunteer
"I moved to Amsterdam from Australia four months ago. I think at a time when everything is a little bit chaotic and negative, it is nice to do something for the communities and give something back instead of just sitting at home and watching Netflix.
I was looking for volunteer work I could do as an English speaker because I can't speak Dutch. I saw there was an article about making pancakes for a day and figured why not. I made lasagnas a few weeks ago and pancakes are definitely easier to make than lasagnas."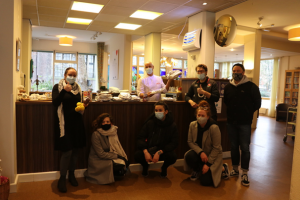 Nick, Volunteer
"We feel very fortunate because it is a tough time, it is nice to give something back."