It clicked!
It is nice and busy at the open house for the homeless on Bilderdijkstraat. It seems that the pancakes are a hit!
"We're here for the second time because we immediately clicked with the team," explains volunteer Shirley. "As I work as a personal assistant in my daily life, helping people and organising things comes naturally to me. The people who come here are very varied, which is great." Chef Liton used to work in the hospitality sector: "I had a difficult time and ended up here. I have been cooking here for 14 years now! Mustafa: "No home means no life. That makes this place so important. Food is essential to the people here. If you have a well-filled refrigerator at home, it's not something you worry about. These people don't have that."
Open house Bilderdijkkade offers a safe haven
Jonnie Peereboom has been working at the open house of the Regenboog Groep at the Bilderdijkkade for years. The extra help from the volunteers is great. The activities and food especially help everyone relax and create a good atmosphere. The facility welcomes some 200 visitors a day of which some manage to work their way back into society. Those who once again have a home, keep coming for the social contact.
Varied group of visitors
Volunteer Shirley: "it is a very varied group that comes here. Some have had a lot of bad luck in their lives. They may have had issues with institutions or are ashamed to make contact. Some don't want any help and prefer to sleep outside." Visitor Ronald: "I live in Suriname and am here temporarily. I mainly stay in hostels – I hope the price doesn't rise too much at Christmas. I have spoken to lots of people here, and see that they really need this place. Some have been homeless for as long as twenty years…"
Daytime activities
The open house also offers daytime activities for the formerly homeless. "I ended up on the streets after a divorce and losing my job," Mustafa explains. "I now have a room at HVO Querido and work here three days a week. I can leave my past behind me and look forward. It's nice here and it gives me something to do. I am not one for sitting still. Some of the visitors struggle with addiction, which is why practical help such as showers, food and a place to rest are so important."
Gap between rich and poor
Jonnie Peereboom sees the gap between rich and poor growing. Most visitors have a difficult time finding a job due to their personal histories, and an increasing number of visitors fall between two stools. It's difficult to see. One of the reasons is that employers who hire illegal employees receive high fines. This means people can't find work and are unable to pay rent.
A team of volunteers is busy wrapping warm socks for the homeless at the open house on Bilderdijkstraat.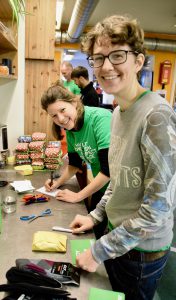 Warm socks for the homeless
Friends Mieke and Erlijn have joined the activities today. Mieke is studying to be a radiotherapeutic lab technician, and Erlijn gives legal advice to resident groups. "This volunteer work is really original: I have never wrapped so many socks in my life!" Mieke: "We're having a great day and are happy to give people who need it something extra. It's a win-win situation."