It was on Thursday March 12th. Serve the City, Burennetwerk, Ympact020 and Present had a brainstorm lunch this afternoon. How could we cooperate better in the future? What would be our joint strengths? How can we attract more volunteers and improve our help to the people in Amsterdam?
Future plans in acceleration
Beautiful plans were made that day. Plans for the future, plans for a better city. What we did not know then was that our cooperation would come to reality much sooner than expected. We needed each other much sooner than we thought, to be able to help more vulnerable people in Amsterdam. During our brainstorming session it quickly became clear. . . The Netherlands will be thrown into a lockdown caused by Corona. Vulnerable Amsterdammers will be affected by this. Especially eldery, children, homeless and mentally disabled people in Amsterdam.
Time for action – is what volunteers thought as well
We took action quickly. What can we do? How can we help? How can we let these vulnerable Amsterdammers know and feel that we are there for them? The first actions were thought up and on March 13th we launched our joint webpage for the Corona crisis. In one weekend we received more than 800!!! reactions through this website. All lovely, beautiful Amsterdammers who want to do something for someone else.
We did so much with your help. We are and were really very impressed by your lovely hearts and hands willing to help. More than a thousand cards have been written, flower bouquets were handed out and meals have been prepared. And many good neighbors have joined us to help. Running errands, walking a little dog or transporting a crosstrainer. Nothing was too much for you and together with you we made Amsterdam a little bit more fair and friendly.
Our volunteers in the media
We got a lot of press too. On national TV the TV program called 'Radar' had an item about our actions three times. Additionally the TV programs 'Nederland Zingt' and 'Hart van Nederland' broadcasted an item about our actions. And the online newspaper channel 'AD TV'. It was fantastic that we got the opportunity to show the entire country what wonderful things were happening in Amsterdam! We also made three amazing videos ourselves. You can watch them on our website.
Volunteering, also after corona
But you know what. . . all the people whom we have helped during the Corona crisis still need help. We know these people because they are vulnerable. We know these people because they are lonely. We know these people because they need our help. And let's face it. . . isn't it wonderful to put a smile on someone's face and to help someone just because it's that simple! That's why we, the four volunteering organisations, started Count Me In. Together we want to make sure the energy that was there during corona, will  Samen zorgen we dat de energie die vrijkwam tijdens de coronacrisis, will be continued.
What will we do with all the volunteers who put their effort during Corona? Well. . . we hope we may deploy you more often here in Amsterdam. We believe we can do more. That we can make the city better with your help.
Baking 6045 pancakes, putting healthcare personnel in the limelight, writing cards to lonely elderly. We are thinking: "We can do this again". That's why
we are organizing the Count Me In Action Day on Saturday August 1st. With all sorts of projects. Projects we have done during Corona. Baking pancakes, writing cards, catering lunch and making packages. But also new actions which are allowed now again. Gardening projects, renovation projects and garbage picking. Awesome if you would like to join (again) and if you want to invite someone to come help too.
Count Me In!
We can do this again. Can we Count On You? Go to www.countmein.nl or follow us on Instagram.
Liefs, Brigitte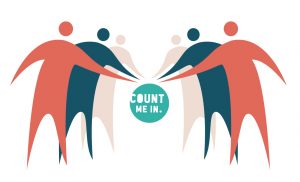 Directrice Serve the City