This post is part of our reversed advent calendar action to surprise undocumented Amsterdammers with a Christmas dinner box.

Brigitte Vonck-Makkinje, founder of Serve the City Amsterdam, is joining the Reversed Advent Calendar together with her son Siem (6) this year.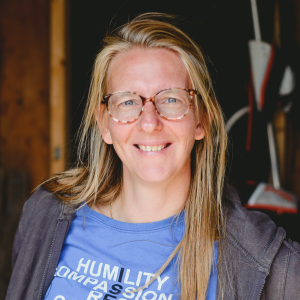 Brigitte, tell us a bit about yourself and how it all started with Serve the City Amsterdam. 
"Hi, my name is Brigitte and I am part of Serve the City since 15 years already!
I started as volunteer when setting up Serve the City Amsterdam together with two friends, today I am lucky enough to call this my job. This means, in my day to day life I organize different volunteering projects throughout the entire city to bring Amsterdammers and vulnerable fellow-Amsterdammers closer together. By lending a helping hand to people in need, we are turning this world into a nicer place."
How did you come up with the idea to start with the Reversed Advent Calendar? 
"It all began in 2020 during Covid when I heard from the alternative food back in Nieuw-West that there are people, who would not get any food at the regular food bank although they are living in poverty. Due to Covid, those people lost their jobs, but obviously still had to feed an entire family! I decided that I wanted to show them support during Christmas, I wanted to give something to them. I had to think about Advent and how nice it would be to give them some sort of faith and hope. The idea of Reversed Advent was born." This year you are joining the Reversed Advent together with your son Siem … 
(Brigitte laughs): "True that. I thought it would be a great idea to join this action as a family, however Siem seemed not that convinced at first sight: "I don't want to get my favorite sweets for somebody else. I want to keep them for myself!" is what he said when we were entering the supermarket. But after I explained to him why we would actually do this and as we started to cross out the first items from our list, his mood quickly changed. In the end he even added the biggest peanut butter jar he could find into our shopping cart and started to make sound decisions about which item to get to make somebody else happy. It was such a pleasure to see."
Is there something you would like to tell all volunteers joining the Reversed Advent Calendar action? 
"I am so thankful for every single one of you participating. I could come up with the best ideas, but in the end it's all about those kind and engaged volunteers like you who make it happen. You even convinced friends, family and colleagues to participate, too. Now we have 640 Advent Calendar boxes to donate, this is crazy!"
Curious to see which calendar item to come next? 
Shhhht … view the entire advent calendar sheet with all items over here.
And if you know someone who would like to join the reversed advent calendar, that person is still welcome to sign-up here.
Last but not least
We wish you a great day!