Every week 500 families are coming to this "unofficial" food bank to get food. We would love to bless every single family with a nice extra "Christmas parcel" when they come to pick up their weekly food.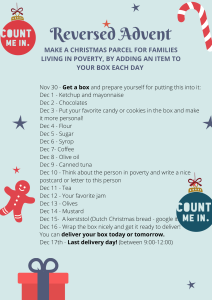 Why: There are families struggling financially because of Corona. They were working as cleaners and in restaurants and there are no jobs for them right now. They have been struggling for months and we would like to make sure they have food around X-mas and feel loved and cared for by many people!
What: We would like to ask you and your friends, family, school, or work to make one or more Christmas parcels for these families as we are approaching X-mas. With advent calendars we usually receive something, but we will do it the other way around. We will give away something every day by adding it to a box and giving it to these families so they can enjoy it on Christmas days.
How: This adventure starts on November 30th and ends on December 17th. You deliver your box in Amsterdam in Nieuw-West. You will get the exact address when you sign up in your confirmation email. If the location is a big problem, let us know, but it would be great if you can deliver it to the address you will be given.
You can deliver your parcel at the location on either:
The 16th of December from 09.00-17.00
The 17th of December from 09.00-12.00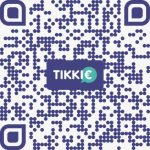 You can also make a donation, so we can buy parcels for the families, use this Tikkie link!
(would you like to get involved with a big group of people, like a company, please send an email to info@stcamsterdam.nl to discuss the options)
Fill out the form below and let us know how many parcels you want to make during December month!
OBS! Can't find your confirmation email after you signed up? Check your spamfilter!
---
This event is full and the registrations are now closed.