This post is part of our reversed advent calendar action to surprise undocumented Amsterdammers with a Christmas dinner box. Besides revealing the daily item to put into the calendar box, we also share some interesting stories and inspirational content to make the countdown to Christmas extra meaningful to all of us.

Veggie Party with Maroof 
Meet Maroof (picture below), one of de Wereldhuis' master chefs, who knows how to make the most boring plates sparkle in the colors of the rainbow with the dishes he creates.
Back home in Niger he never had to cook, but as soon as he started traveling the world (Italy, France, Swiss, ..) he discovered how much he enjoyed cooking. Standing in the kitchen together with other cooks, he made great connections while exchanging inspiring recipes from different continents and cultures. That's why his signature dish is the Ghanean Stove.
Every Thursday, he throws a kitchen party at de Wereldhuis together with one sous-chef to feed about 50 hungry bellies. As food connects people, he is happy to share his recipe with you.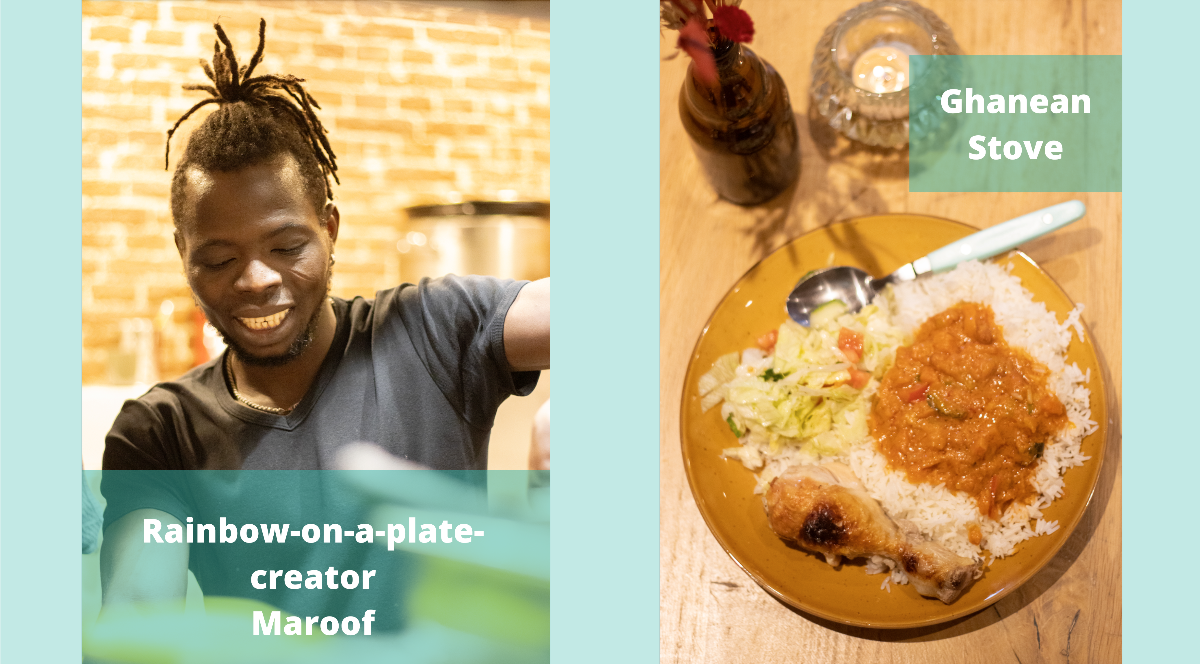 Ghanean Stove  – Yields: 50 portions
> 7 kg of rice
> 5 onions (small)
> 1000 gram canned tomatoes
> 3 green and 3 red bell peppers (chopped into cubes)
> 2 courgettes (chopped into cubes)
> bitter leaf
> 2 potatoes (cut into cubes)
> 1 pot of peanut butter
> package maggi bouillon
> black pepper
> 4 garlic cloves
> tablespoon curry powder
Put oil in a big pan and start frying the onions. When soft add the tomatoes. Wait until they get mushy (about 3 minutes) and add the rest of your vegetables. Now add 1 cup of water. Let it sit for two hours until it's one nice big sauce. In the meantime, there is enough time left to cook the rice 😉 Bon appetit!
Curious to see which calendar item to come next? 
Shhhht … view the entire advent calendar sheet with all items over here.
And if you know someone who would like to join the reversed advent calendar, that person is still welcome to sign-up here.
Last but not least
We wish you a great day!